October 17, 2019
Category:

News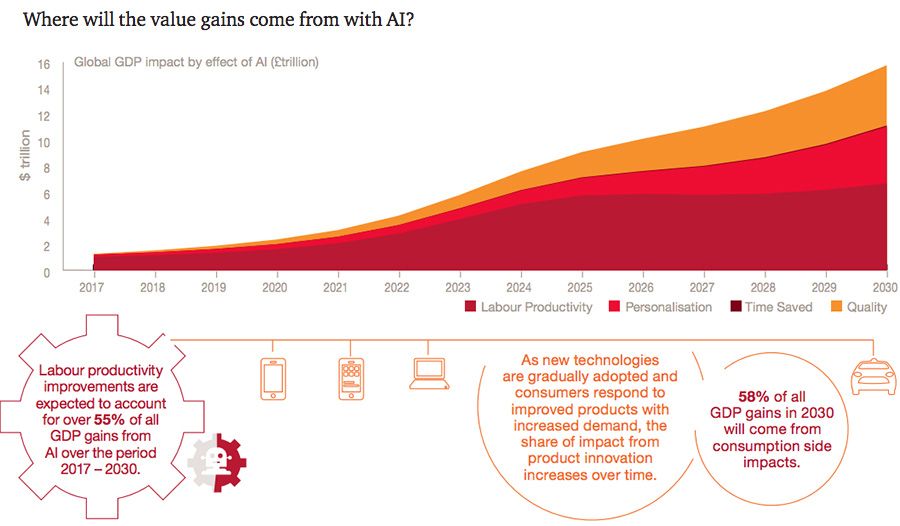 With Artificial Intelligence (AI) providing a boost to output over the coming decade, global GDP could rise by a total of $15.7 trillion by 2030. A new study suggests that this could see over 55% of GDP gains from AI come in the area of labour productivity.
While the UK Government and negotiators from Brussels remain at an impasse, the one thing that can be said with any confidence about Brexit is that nobody can be sure what the future holds for the project. Brexit uncertainty is not the be all and end all of growth in the UK. With or without Brexit on the cards, productivity has continuously blighted Britain's economy, as businesses struggle to recruit because of dwindling spare capacity. As the UK teeters on the brink of a recession, even before the Brexit saga reaches its culmination, tackling this issue may be the key to future prosperity, then.
A solution may be at hand, however. According to PwC's new Global Artificial Intelligence Study, businesses in the UK and elsewhere will be looking to AI to deliver the change needed for this conundrum. If firms harness the power of automation and machine learning quickly, global GDP could be 14% – or $15.7 trillion – higher in 2030, the report found. Of this, $6.6 trillion is projected to come from increased productivity and $9.1 trillion from consumption-side effects.
PwC found that of all GDP gains from AI between 2017 and 2030, 55% are set to be realised in the realm of labour productivity. Indeed, until around 2025, when this improvement finally begins to plateau, labour productivity will account for around three-quarters of this GDP increase. The impact on productivity could be competitively transformative – businesses that fail to adapt and adopt could quickly find themselves undercut on turnaround times as well as costs.
The potential of this initial phase of AI application mainly centres on enhancing what's already being done, rather than creating too much that's new, however. That means that beyond 2030, as new technologies are gradually adopted and consumers respond to improved products with increased demand, that 58% of all GDP gains in 2030 will come from consumption side impacts. In the long-term, then, companies will have to plan for this – even if they are satisfied with cashing in on improved productivity in the hear-and-now.
To this end, the report concluded, "The ultimate commercial potential of AI is doing things that have never been done before, rather than simply automating or accelerating existing capabilities. Some of the strategic options that emerge won't match past experience or gut feelings. As a business leader, you may therefore have to take a leap of faith. The prize is being far more capable, in a far more relevant way, than your business could ever be without the infinite possibilities of AI."