TRANSLATION
BSC group was founded on a simple business premise: that unmatched quality and attentive client service could be competitive differentiators in the language services industry. Today, as the world's largest privately held provider of translation services, BSC group utilizes a rigorously tested network of industry-expert linguists and full-time quality managers to ensure that the work we deliver is second to none. BSC group offers multiple levels of service based on client needs, ranging from draft / summary translation up to certified translation, featuring our multi-step translation and review process to ensure the highest level of accuracy and meet the evolving needs of global businesses.
170+ LANGUAGES
5000+ NATIVE SPEAKING LINGUISTS
INDUSTRY EXPERTISE
LINGUIST CERTIFICATION PROGRAM
ISO 9001 AND EN 15038 CERTIFIED
Translation Process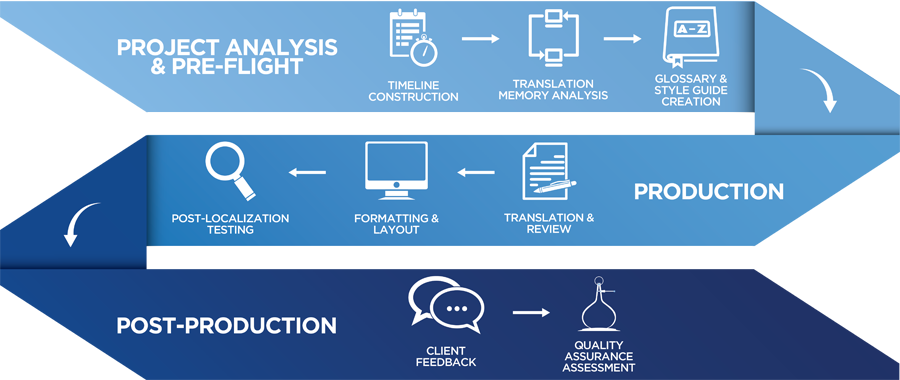 BSC group Linguist Certification Program
While various professional groups and organizations have historically provided credentials for professional linguists, none of these addressed critical elements of linguist performance like subject-matter expertise and overall competency — so BSC group introduced the BSC group Linguist Certification (BSCLC) program. The BSCLC program was the first comprehensive system to assess linguist skill in the areas that matter most to clients.
Document Translation
Ever since, we've been the industry pioneer driving the level of quality and service increasingly higher.
No other language services provider can offer the capabilities that BSC group does to meet your multilingual challenges:
Rush Turnaround Times
High-Volume Requests
Highly Technical Materials
Certified Documents
Machine Translation
For companies that face extremely high volumes of text, extremely fast turnaround requirements, or both, machine translation can potentially serve as a viable option. On its own, current machine translation technology can't produce the same level of quality as a human translator. However, depending on time constraints, cost requirements, and end-use, the machine translation process can be customized with the ideal combination of terminology glossaries, translation memory technology, optical character recognition (OCR), and post-translation proofreading by human linguists.
Please contact us to learn more about our machine translation and to talk with our client service team to determine if machine translation is a potential solution for your needs.
CAT Tools
BSC group utilizes leading computer-assisted translation (CAT) tools to facilitate reuse of previously translated content stored in translation memory (TM).
TM helps organizations cut costs and timelines while improving overall translation consistency, and the benefits in these areas grow over time as TM assets grow and are augmented by tools including Global Language TM Server and Global LanguageTerm Manager, which centralize TM assets and manage terminology glossaries, respectively.